Lucky Dog Books
911 W. Jefferson Blvd., Dallas/Oak Cliff, Texas 75208
Phone: 214.941.2665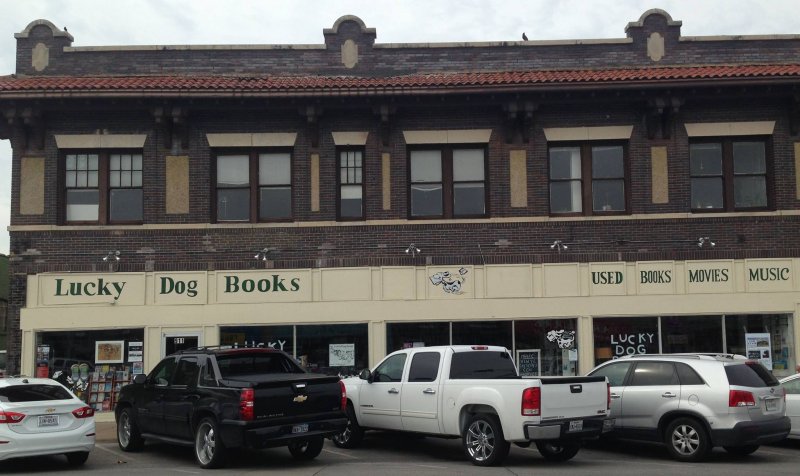 Bookstore Hours
Monday-Sunday: Noon-9p




Click below for a new 3D video tour of this Oak Cliff bookstore
courtesy of Jason Horne of Land & Air Media Services
who did all the work to make this wonderful creation!





Map & Parking:

The parking meters in front of the bookstore are only in effect from 10 am - 4 pm and only cost 25 cents per hour!

Here's a map showing our exact location. The parking lot behind the bookstore is no longer available for general parking.



If the parking spaces in front of the bookstore are full, there is often parking on the other side of Jefferson and also sometimes on Tyler on either side of Jefferson. In neighborhood shopping areas like this, we all prefer to be able to just pull in in front of the store we are going to.

But if we are shopping at a variety of other spots such as big box stores, movie theaters or malls, we nearly always have to walk some distance to get to them. Please don't let some extra walking keep you from coming to see us when things are busy in our block.
---

Our East Dallas location is open every day and you are welcome to use your gift certificates and credit from trade-ins there just the same as here in Oak Cliff or at Paperbacks Plus in downtown Mesquite, which is closed on Tuesdays.

We welcome your email and phone inquiries for requests for specific titles and authors.

Please check out our calendar of special events and ongoing meetings of community groups!


---

RELATED LINKS:

To: Lucky Dog Books -- Homepage

To: Lucky Dog Books -- East Dallas

To: Paperbacks Plus -- Mesquite


---

Please refresh your preferred browser to make sure you are seeing the most recent versions of our pages and/or "like" and follow us on Facebook for more frequent updates and photos.




You may contact the bookstore by email or call 214.941.2665.

Page updated October 31, 2018.