Lucky Dog Books
911 W. Jefferson Blvd., Dallas/Oak Cliff, Texas 75208
Phone: 214.941.2665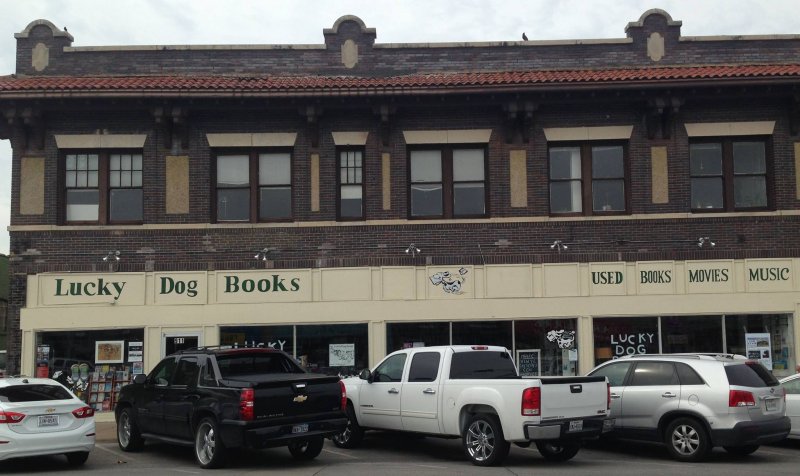 10+ Years In Oak Cliff




This year marks 10 years for Lucky Dog Books in Oak Cliff. Although our location at 911 W. Jefferson Boulevard in Oak Cliff is still the largest bookstore (and the only used bookstore) in this neighborhood, this last decade has seen Oak Cliff become the part of Dallas with the most bookstores, numbering 5 now.

As always, we encourage you to visit these new bookstores and buy from them so that you can recycle their fine offering here when you are finished reading them. So after dropping in to see us, please continue the Oak Cliff Book Tour to check out Whose Books just south of us at Tyler Station and then Pan African Connection over on Marsalis before finishing up in the Bishop Arts area with The Poetry Bookshop and The Wild Detectives where you can wet your whistle.

We've been doing some rearranging, adding more tables and chairs to make it easier to use our wifi.

And we are beginning to have more folks start again doing events and other programming to make this bookstore more useful to all.

Thanks for all your support of our efforts to bring a wide ranging bookstore to the neighborhood. Please help us spread the word that this bookstore is up and running again.

Map & Parking:

The parking meters in front of the bookstore are only in effect from 10 am - 4 pm and only cost 25 cents per hour!

Here's a map showing our exact location. The parking lot behind the bookstore is no longer available for general parking, but the reconfiguration of Tyler and Polk into two way streets now allows you to circle our block when parking is a bit tight.



So if the parking spaces in front of the bookstore are full, you can now turn right at the end of our block and then again onto Sunset and then Tyler before being back to Jefferson to see if someone has moved yet. There is often parking on the other side of Jefferson that can be reached by driving past Jefferson on Tyler and turning right on Center and then again on Polk and Jefferson.

In neighborhood shopping areas like this, we all prefer to be able to just pull in in front of the store we are going to. But if we are shopping at a variety of other spots such as big box stores, movie theaters or malls, we nearly always have to walk some distance to get to them. Please don't let some extra walking keep you from coming to see us when things are busy in our block.
---

Our East Dallas location is open every day and you are welcome to use your gift certificates and credit from trade-ins there just the same as here in Oak Cliff.

We welcome your email and phone inquiries for requests for specific titles and authors.

Please check out our calendar of special events and ongoing meetings of community groups!


---

RELATED LINKS:

To: Lucky Dog Books -- Homepage

To: Lucky Dog Books -- East Dallas

---

Please refresh your preferred browser to make sure you are seeing the most recent versions of our pages and/or "like" and follow us on Facebook for more frequent updates and photos.




You may contact the bookstores by email or call 214.941.2665.

Page last changed September 1, 2022.