Lucky Dog Books
10534 Garland Rd., Dallas, Texas 75218
Phone: 214.827.4860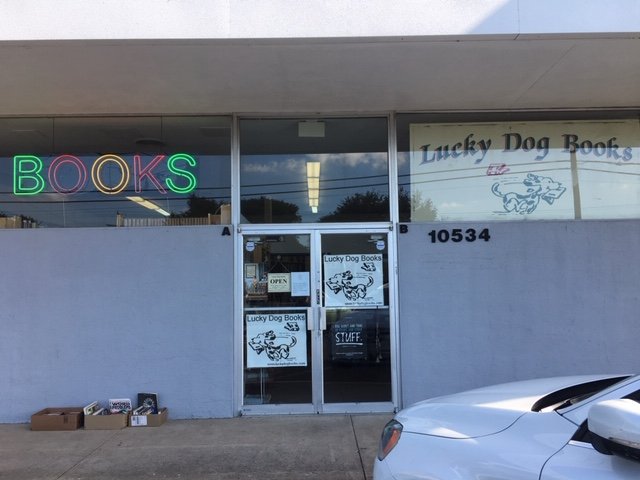 Bookstore Hours
Mon-Sat: 9a-9p
Sunday: 11a-7p

Note: We have recently moved our old East Dallas location into a nearby space at 10534 Garland Rd., near Easton and The Army Store and Vhea's LaundroMutt.



We're open our regular hours at the new location with almost everything from the old bookstore back in place and ready to be browsed. Click here for a map of the layout of this location and here for a slide show of some interior shots of various areas of this bookstore.

We are still working on more lighting in some areas. We can still definitely benefit from some volunteers helping to get things back in better order on the shelves.

So drop in anytime. Look for our signs on the front doors until we get our outdoor ones up.

Although we did not want to move again, we had to, and, long story made short, we're now in the space that we really wanted to move into last year.

It:
has easier parking
is more visible from the street with a better sign
is easier to get in and out of the parking lot
and has about as much room as our old store did.

We will once again be providing a "Thank You" discount bookmark good for every half hour contributed.

If you are interested, please leave your name and phone number on our sign up sheet when you next visit the bookstore or drop us an email to
treats@luckydogbooks.com


---
---

OTHER USEFUL INFO:

Lucky Dog Books has two used bookstores in Dallas plus one in downtown Mesquite.

You are welcome to use your gift certificates and credit from trade-ins from here just the same at the other Lucky Dog Books in N. Oak Cliff or at Paperbacks Plus in downtown Mesquite (closed on Tuesdays).

We welcome your email and phone inquiries for requests for specific titles and authors.

Please check out our calendar of special events and ongoing meetings of community groups!


---
To: Lucky Dog Books -- HOMEPAGE


To: Lucky Dog Books -- OAK CLIFF


To: Paperbacks Plus -- MESQUITE


---

Please refresh your preferred browser to make sure you are seeing the most recent versions of our pages and/or "like" and follow us on Facebook for more frequent updates and photos.




You may contact the bookstore by email or call 214.827.4860.

---

Page updated January 2, 2019.