Hours
Monday-Saturday 10a-9p
Sunday Noon-7p

Locations

Lochwood
Lucky Dog Books
10801 Garland Rd.
Dallas, TX 75218
214-827-4860


Oak Cliff
Lucky Dog Books
633 West Davis St.
Dallas, TX 75208
214-941-2665


Mesquite
Paperbacks Plus
108 E. Davis St.
Mesquite, TX 75149
972-285-8661

E-Mail
info@luckydogbooks.com

Services

Books Mailed

Gift Certificates

Acquisitions

Referrals & Appraisals

Retail & Wholesale

Consulting


Notes

Why Lucky Dog?
Please e-mail us at
treats@luckydogbooks.com
to receive notice of bookstore news.


---

HODGE-PODGE ROOM
at Lochwood location at 10801 Garland Rd.
The "Hodge-Podge" is an odd-shaped room that came with odd-shaped shelves and an odd-shaped counter which we adapted for bookstore use by filling it with vintage magazines and books, old radio shows on cassette, Laserdiscs, LPs, 45s, 78s, 8-tracks, obsolete media/tech remains, memorabilia, and other curiosities. Check it out the next time you have a few extra minutes to browse.

Special Offer
Recycled Books In Denton is having their 30th Anniversary Sale this weekend.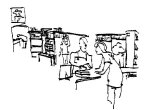 Shop there during the sale & save your receipt. Bring it to us after our own sale is over & we will give you $5.00 off any used purchase here.

We respect what they do there & want to honor and support their celebration of this historic event for them and their readers.

You can look at it as us helping pay your gas money to get there & back.

Take the Long Weekend Book Bash Tour & and visit HPB as well since we are all having a sale this weekend.

More Events



Saturday, May 25th
11am-12:30pm
WHITE ROCK READS
Mixed-genre book club meets on the last Saturday morning of each month.
Lucky Dog Books
—Lochwood Location—
10801 Garland Rd.
Dallas, TX 75218
214-827-4860


---

Tuesday Evenings
7:15 p.m.
Ideas of TIBETAN BUDDHISM
A continuing series of classes. Click here for info. Meets at
Lucky Dog Books
—Oak Cliff Location—
633 W. Davis
Dallas, TX 75208
214-941-2665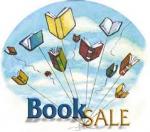 5-DAY Re-Flash
BOOK SALE
Thursday-Monday
May 23-27, 2013


25% OFF
At all three stores.


And of course our customers with store credit from trade-ins can use it with purchases during the sale for an even better bargain than our normal great deal day in and day out.


---
Recent
Titles in Most Media
Always
Needed
Cash offers for current bestsellers and select titles/authors; and, as is almost always the case, higher trade credit to save you even more when you shop at
Lucky Dog Books.

SPRING CLEANING?
If you're doing spring cleaning and have some books, movies or music you are done with, remember that we offer a "drop off" service so you don't have to wait while we add up your stuff. Just give us a current phone number to be able to "clear" things with you once we get them done, and be on your way.


---
Monday Evenings
6:30-7:45pm
YOGA TUNE UP
MARA BLACK TEACHES
GENTLE YOGA
FOR GENTLE PEOPLE
$10.00 per class.
Lucky Dog Books
—Lochwood Location—
10801 Garland Rd.
Dallas, TX 75218
214-827-4860


Print

Paperbacks

Hardbacks

Magazines

Comics & Manga

Large Print

Audio Books

Sheet Music

Other Languages

Video

DVD

Blu-Ray

VHS

Laserdisc & Beta

Audio

CDs

LPs

45s

78s

Cassettes

8-Tracks

Resources

Texas Music Office

Community