Locations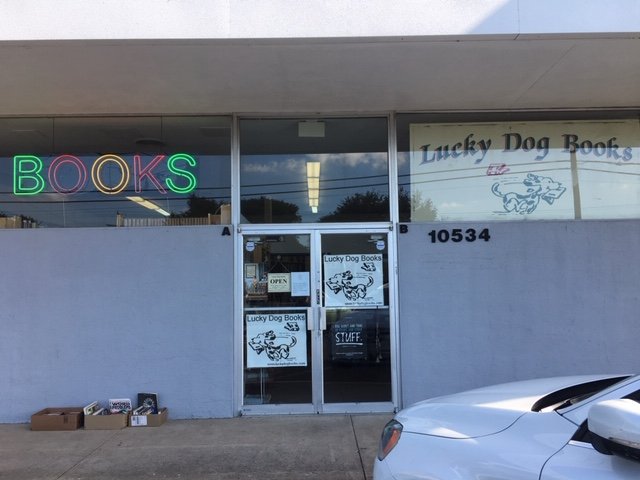 East Dallas
Lucky Dog Books
10534 Garland Rd.
East Dallas
Dallas, Tx 75218
214-827-4860
Facebook
,
Twitter
,
Instagram
&
email list sign up
Oak Cliff
Lucky Dog Books
911 W. Jefferson
N. Oak Cliff
Dallas, Tx 75208
214-941-2665
Facebook
,
Twitter
,
Instagram
&
email list sign up
---
Hours
Everyday:
11am-7pm
---
Contact
EMAIL
us at
info@luckydogbooks.com
---
DART Schedules
---

Services



---

History
The first of the bookstores known originally as Paperbacks Plus and later as Lucky Dog Books opened in downtown Mesquite in 1974, but really got their start as a one day a week experiment called Saturday Books in 1973 in Terrell, Texas. Click here to read the beginning of a history that chronicles the early years from 1973-1984 and/or here to read a story that ran in the Mesquite News about our 40th anniversary event and/or here for a feature published in the Sunday, September 8, 2013, edition of The Dallas Morning News with 4 photos including the one below by Kye R. Lee (taken during the Lochwood years on Garland Road before our move to Casa Linda Plaza in the summer of 2017 and our subsequent move to 10534 Garland Road in the summer of 2018).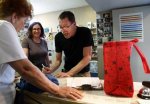 Plus: A short video from the Lakewood years.

Also:


Here is a link to the KERA 90.1 FM radio show that aired June 9, 2014, featuring several local bookstores including Lucky Dog Books.


Oak Cliff News:
Oak Cliff
Book Crawl
Oak Cliff has the most bookstores in Dallas and as part of the 10th Independent Bookstore Day on April 29, 2023, we all hosted the 1st Oak Cliff Book Crawl encouraging a visit to all 5 shops if possible.

Here are the 5 shops that
you can tour in your own book crawl whenever time permits:

Whose Books at their new location of 512 W. Davis;

Pan African Connection at 4466 S Marsalis;

Poets Bookshop in the heart of the Bishop Arts District at 506 N. Bishop;

Wild Detectives also in Bishop Arts at 314 W. 8th;

Lucky Dog Books at 911 W. Jefferson Boulevard.

Please check out each
bookstore's social sites
to see what we all have going on.
---



SHARE YOUR
KNOWLEDGE
& SKILLS


We need folks like you to create/host events at our bookstores in Dallas where we have public spaces/lounge areas.

Whether ongoing or one time occurences, readings, workshops, chat groups, book clubs, or other sorts of social circles would be welcome

Things we would especially like to see happen here would include a poetry night, a chess club, and discussion groups around science news or public radio content from KERA-FM, and a young readers book club.

We have a lot of opportunities right now with many open slots on our weekly/monthly calendar.

Please drop us an email if you are interested.


---
WORDS & MUSIC
AT THE BOOKSTORE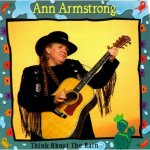 When not on the road with long-time musical partner Steve Hughes,
ANN ARMSTRONG
teaches beginning and advanced guitar and songwriting to students of all ages at Lucky Dog Books in East Dallas and elsewhere. Listen to her here or wherever you find her playing.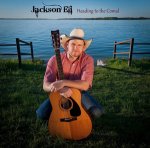 GUITAR LESSONS
WITH JACKSON ELI
Jackson studied music at UNT in Denton, Texas, and teaches students of all ages and interests at Lucky Dog Books in East Dallas and elsewhere. Info? Text Jackson at 214.566.7828



East Dallas News:
Tasty Treats
for Readers
We offer for sale
10-12 flavors of coffee,
30+ cold beverages,
& a dozen+ tasty flavors
of cookies from
the local bakers at
Wackym's Kitchen
.
And you are welcome
to have a seat
in our lounge area
to enjoy them.
---
YOUNGER READERS
Younger readers are very important to the bookstores. We want to encourage you to encourage them to read. So keep us in mind as a pretty inexpensive, quieter than average place to spend some time with your child, grandchild, niece or nephew.


---



...AND...we continue to get in amazing collections of books, DVDs, CDs, etc.

Check out our Facebook page for pictures of some of the recent arrivals.
---

Buy A Bookstore?

We've been doing this for 50 years and are wondering if it's time to let someone else give it a try at one or both locations? A younger couple? A neighborhood co-op? Please click here if you or someone you know may be interested in this.


Or here to see an interesting variation that we would be glad to entertain.
---



PTA MATTERS


We think there are a lot of opportunities for us to work together to benefit neighborhood schools and their students. Here is link to some ideas about this. Please feel free to contact us if you think of other ways we might be helpful.


Gift Certificates
We still use good old fashioned paper gift certificates here at the bookstores which provide some advantages over the new fangled gift cards.
Our gift certificates can be personalized right on them. Their layout includes a log of their usage so that it is always clear what the remaining balance is. And the store locations are shown on them so that your recipient doesn't have to look them up.
Click the links above to get more details and even purchase some online if you prefer.
---

Subscriptions

Please be aware that you can give a reader in your life a monthly subscription to the bookstores that will provide them with the number of $5 off Mini-Gift Certificates that fits your budget. And you'll only pay for it each month as it happens through Paypal with the ability to cancel anytime.

Or consider subscribing to the bookstores today as a way of expressing your committment to their future while enjoying the full value of your participation through the monthly receipt of our Mini-Gift Certificates.


---
Start a cafe?

Each bookstore has room for some sort of cafe. We'd like to find the right folks for each location to get one going. Click here to pursue this idea.

---

Books

Fiction

Non-Fiction

Paperbacks

Hardbacks

Children's Books

Sheet Music

Comics & Manga

Magazines

Large Print

Audio Books

Other Languages

Also, many new, used, and out-of-print titles by local writers.

Movies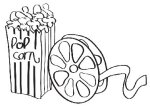 DVD, VHS, Laser...

Music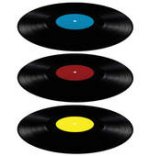 CDs, LPs, 45s, 78s, Cassettes, 8-Track Tapes...



---

GOOGLE MAP
DALLAS AREA
BOOKSTORES

We've compiled a map of Dallas area bookstores past and present that you might like to check out. Let us know of others that should be added.